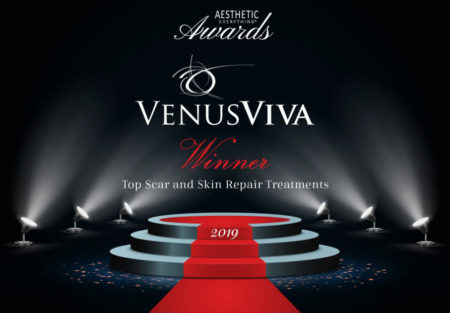 VENUS VIVA -Medical micro-needling with nano-fractional technology. One of our top "go to treatments" this aesthetic favourite provides a mini facelift without surgery or injectables.  Provides outstanding dermal volumisation, lifts, contours jowls, reduces wrinkles, fabulous for rosacea and redness.  Beneficial to reduce superficial pigmentation.  Improves skin tone, texture and reduces pore size.  Incredibly beneficial to reduce acne scarring and thickened sun damaged skin.  FDA proven clinical results.  Minimal downtime.
Scientifically proven to regenerate dermal cells and increase collagen and elastin production.  Microscopic channels are created in the upper layers of the dermis resulting in a healing response and ultimately skin rejuvenation.  This allows us to then infuse the skin with serums packed with Stem cells, vitamins and hydrating active ingredients to speed up cell renewal and repair.
This treatment was voted one of the top treatments in vogue and Tatler's cosmetic surgery guide and was winner of the Aesthetic Everything Award in 2019.
Venus Viva Treatment Costs
We recommend a course of 4 treatments £900
Individual treatment £250